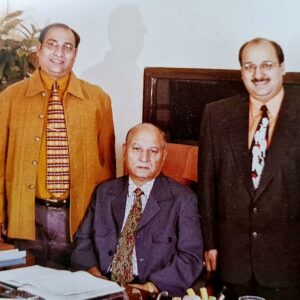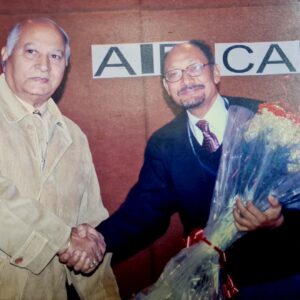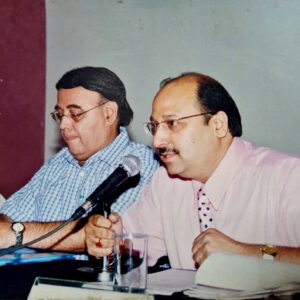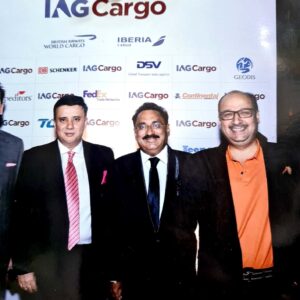 SWIFT SEED WAS SOWED IN 1979 BY Mr. Ashwani Sharma under the umbrella supervision of our father Mr. KL Sharma and later in 1985 Mr. Arvind Sharma joined the family business and added some new international marketing ideas to expand clientele base and With a vision to solve common problems that customers face in logistics, company started contacting clients gradually to understand the level of work satisfaction they expect from an organization, and as a result, within a few years, we were right on top of the service levels with our personalized concentration and handling.
In the journey of becoming a reliable logistics provider, swift won many challenges, like in the 80s with limited airline operators' space Procurement was a big challenge than the freight rates and to maintain our service standards we used third country bonded transits thru our worldwide agent partner to meet clients delivery dates.Despite challenges and hurdles, we continued to work with great passion and enthusiasm the reason we were able to make a good clientele base and a strong network of partners worldwide. In 1986 Swift Freight Moovers was accredited with IATA certification and this new milestone was a significant moment for the organization as this recognition helped us in establishing a respectable position in the trade.
In 1987 Customs awarded CHA license to Swift Freight Moovers and made company self dependable logistics provider by offering all services under one roof to clients. With our overseas clients and a strong network of partners, customers started trusting us for our excellent services worldwide. Our team is our core strength, we have a visionary and efficient team with over 30 years of experience which ensures that we are continuously improving and providing world-class services to our clients and trade partners.
The year 2010 was a breakthrough for us as the third generation member Mr. Anchit Sharma joined the family business to make the company technology driven with an enhanced and digitized workflow that helped us to gain a competitive edge. Mr. Anchit's revolutionary ideas and enthusiasm is helping us grow significantly in the business. At present, we have direct presence in INDIA, COLUMBIA, USA, SOUTH AFRICA, and AUSTRIA that allows us to provide dependable logistics services worldwide. We as Swift Group diversifying into other allied trade lanes is working rapidly towards customer centricity to be able to provide the services that our customers deserve.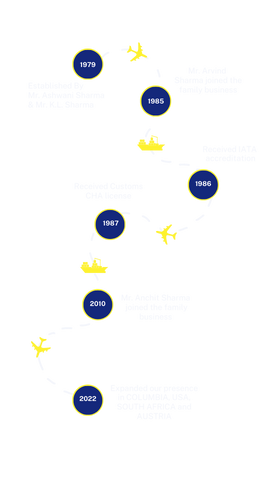 We strive to be the best Freight Management Company and provide innovative and smart Logistics solutions to our customers.
Mr. K.L. Sharma is a veteran having more than 4 decades of experience and work knowledge in the aviation field. He worked with Japan Airline Cargo as Dy. Regional Director for India, Nepal and Sri Lanka. He Looked after sales, marketing and operations. Mr. Sharma is well known in Tokyo HQ for his achievements and growth of JAL in this region.
Mr. Arvind Sharma is looking after
Domestic and International Sales…
Mr. Arvind Sharma is looking after Domestic and International Sales and Marketing since 1985 and is well known professional in the field of cargo and has qualified in various Airlines conducted Cargo Courses, to provide professional services to meet International Standards. He is actively involved in various trade forums.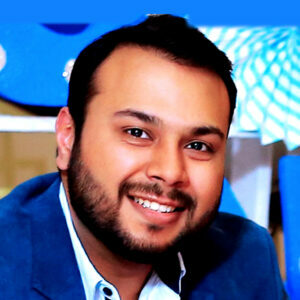 Mr. Anchit Sharma who joined
the company in 2010 and has…
Mr. Anchit Sharma who joined the company in 2010 and has been instrumental in bringing the logistics arm of the company to a professional level which has resulted in the attraction of more clientele and the growth of the group companies.
(Vice President Marketing & Operations)
Mr. Debasish Ray has worked
with Air France Cargo for 33..
Mr. Debasish Ray has worked with Air France Cargo for 33 years and began his career as the Airport Cargo In-charge at Delhi and later promoted to Regional Manager for Cargo Operation for the Indian Sub-Continent and was responsible for setting up several stations for Air France Cargo. He was involved in the appointments of GSSAs for Air France in the Sub-Continent. His last 5 years he was promoted and served as the Cargo Manager for the Western Region and was stationed in Mumbai.